Green Dot 8lbs – Alliant Powder
Alliant Green Dot
SPECIAL ORDER
8LB
Now cleaner burning! It delivers precise burn rates for uniformly tight patterns, and you'll appreciate the lower recoil. Versatile for target and field.
Lower felt recoil
Superior patterning
Versatile for target and field
Principal Purpose: Handicap trap loads
Secondary Uses: Light 20 ga. target loads
WARNINGS: This product can expose you to chemicals which are known to the state of California to cause cancerand birth defects or other reproductive harm. For more information go to- www.P65Warnings.ca.gov
Green dot powder
Alliant Green Dot provides a slightly broader range of loads than Red Dot. The slightly longer burn rate (over Red Dot) generates a greater or greater speed and reduces felt reversal over a number of loads. Lightweight loads have taken advantage of the Green Dot properties. A big powder target.
Thank you for reading this post, don't forget to subscribe!
The smokeless powder from Alliant Powder ® Green Dot ® comes with a cleaner burning formula, which supports precise, uniformly tight patterns. Moreover, Alliant's Green Dot is an excellent solution for both field and target shooting because it reduces the amount of the shooter's overall reverse sensation. Designed for handicap loads, but with 20 and 28 measurements of target loads, it also works well.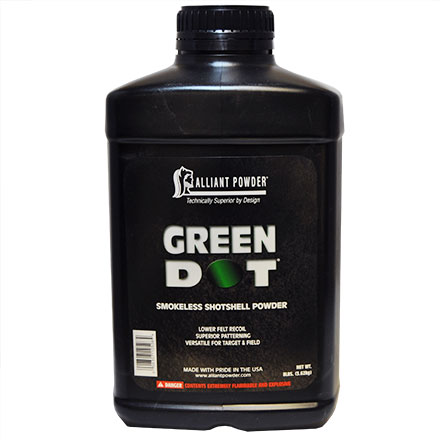 'Reduces the amount of feel 'Promotes better patterns' Excellent for field and objective shooting.
Now the burning is cleaner! For tight patterns, it gives precise burn rates and the lower rebound is appreciated. Various for field and target.
Recoil Lower Feel
Higher patterns
Various for field and target
Main objective: Trap loads handicap
Secondary applications: Target loads Light 20 ga.
Notes: best tight and uniform pattering of the long-range clay target powder.
Alliant Green Dot Smokeless Shotshell Powder 8 Lb is proud to offer Tactical World. Green Dot is a medium-burning standard powder-type flake. Green Dot is a good all-around powder for 20 and 28 gage target firefighter loads. Alliant Green Dot produces tight designs that are exceptionally precise and uniform in size.
Features and specifications:
Flake Style Powder, Medium Burn Rate
Excellent with 12, 16 and 20 gauges.
Good and consistent models.