Alliant Herco
8 LB
SPECIAL ORDER
Smokeless heavy shotshell and handgun powder
Since 1920, a proven powder for heavy shotshell loads, including 10-, 12-, 16-, 20- and 28-gauge target loads. The ultimate in 12 gauge, 1 1/4-ounce upland game loads.
Cleaner burning and improved flow
Excellent high-base hunting loads
Great for magnum handguns
Principal Purpose: Heavy shotshell loads 10, 12, 16, 20 & 28 gauge
Secondary Uses: Heavy handgun loads
WARNING: this product can expose you to chemicals which are known by the state of California to cause cancer and birth defects or other reproductive harm. for more information go to – www.P65Warnings.ca.gov
Herco is a heavy smokeless shotshell with a pistol. The heavy-duty shotshell loads of powder were proven to be 10, 12, 16, 20 and 28 gage target loads since 1920. Herco is the finishing powder in 12 gauges and loads 1 1/4 oz uplond. Excellent for handguns and magnums. The shape of the grain is fleeting.
Thank you for reading this post, don't forget to subscribe!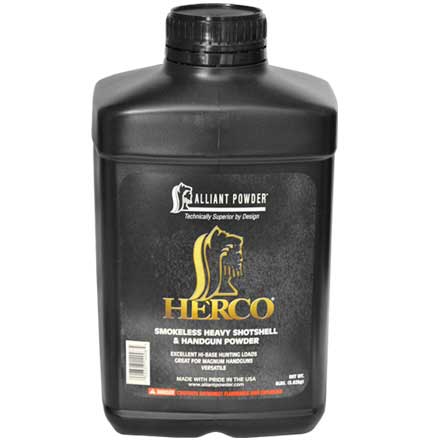 The quality of Alliant Herco Shotshell Powder is difficult to beat in a heavy, high-base shotshell hunting load. This powder provides unbelievable performance at heavy loads, including 10, 12, 16, 20 and 28. The powder is also used for 12-gage loads, 1 ounce loads, magnum loads of guns.
The manufacturing company reminds us that the loads shown in the manual must never be exceeded, and no matter the source, type, or brand, two powders should never be blended at all. Furthermore, there is no ally.
A proven powder of 10, 12, 16, 20 and 28 gauge targets has been in use since 1920. The last one in 12 gage loads, 1-1/4 oz.
•High-basis loads for high hunting
•Excellent for magnum arms.
•Versatile
Main objective: Heavy shotshell loads 10, 12, 16, 20 & 28 measurements
Secondary use: High loads of handguns
Notes: Exceptional heavy hunting and goal loads of 12 ga.